Greetings, Folks! It's only been nearly two and a half months since my last post. I know this entire year I haven't been the greatest with blogging--it's been so easy to become lazy and just rely upon Facebook to share pictures and special moments with family and friends. However, I love the ability to share more in the form of a blog post, as well as stuff that not all of my Facebook friends are particularly interested in. Thus, I'm not abandoning my blogs. I just have to figure out how to get back on schedule.
My excuse for my latest blogging absence is another move! Given that it was my fourth move in three years, you'd of thought that I'd have everything down pat, but somehow with the Blueberry it was much much more. We're still settling in, but are about 95% unpacked. Unfortunately, that 5% doesn't seem to be going away any time soon.
My husband's work took us from Northern Virginia to Central Maryland. So far it's been fantastic. I could go on and on about how we love that there are more than two major roads, how there are continuous sidewalks, and a wealth of family-friendly things to do. But I didn't log on to gush about our new home, so maybe I'll do a moving update a little later. Maybe. One of the biggest perks for the Blueberry and I is all the things we can walk to. Farmers markets, parks, play lots, grocery stores, a major mall, and TWO libraries! This month we've been to the library several times and discovered a new series that was made for me. (The Blueberry seems to like it a lot too, but I love, love, love it!) Naturally it's about a bear.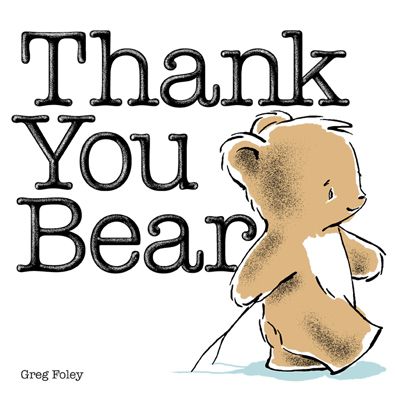 The Thank You Bear series is a five book series by Greg Foley. The first, Thank Your Bear is a sweet story with teaches that you should have confidence in yourself and trust your own instincts. (That's kinda loaded for a kid's book, I thought, but it's done amazing well.) Basically, Bear find something that he thinks will be perfect for his best friend Mouse. The other animals scoff at his present, more or less saying that it is a worthless thing. By the time Bear sees Mouse, he's full of self doubt, but Mouse loves it. The illustration is simple but adorable. With only a few lines per page, it's perfect to hold the Blueberry's attention and love of page-turning. This book appears to be available in hard cover, paperback, and board book. I'm definitely planning on adding a copy to our collection.
Next is Don't Worry Bear. In this tale another of Bear's friends is introduced--Caterpillar. When Caterpillar disappears inside his cocoon for what seems like ages, Bear worries. Caterpillar (from inside the coccoon) and the other animals reassure Bear that Caterpillar is quite all right, but Bear worries. Then suddenly, the cocoon is empty. Another cute story. Not quite as poignant as Thank You Bear, but definitely a warm and fuzzy read.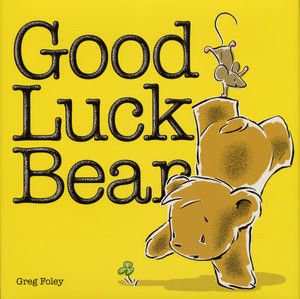 Next is
Good Luck Bear
. Similar to the first book, Bear along with his good friend Mouse embark on a task that the other animals think is impossible, silly, or otherwise not worthwhile. Just as they become disappointed, they do even better than their goal. Self-confidence is reinforced. Another touching story.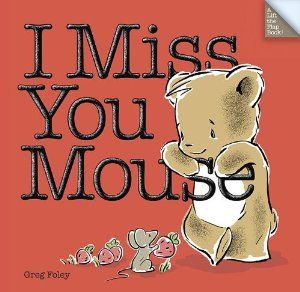 Finally, we read
I Miss You Mouse
, which is the Blueberry's absolute favorite. No doubt this is because it is a lift-the-flap book. I was so impressed how gentle the Blueberry is with this book, even though the paper is much thinner than most of his other beginning peek-a-boo books. He also is quite partial to red, which makes it easy to spot this book even when Mommy buries it in a stack of library books. Unlike the other stories, this book tells the tale of Mouse as he looks for Bear. Though we only see Bear in a few pages at the end of the story, I found this story quite charming, even though it's a bit sad when Mouse despairs that he might not find Bear. The theme of friendship is stronger than ever in this book. I also liked that for once the other animals aren't perceived as mean or otherwise uncaring. Definitely this book and the first are the tops of the series that we've read so far.
The last book in the series is called Make a Wish Bear, which we haven't borrowed yet. I paged through it at the library and decided to wait a bit because it's a wintery story and reading about snow when it's 90 degrees out rather depresses me. Greg Foley also has a stand-alone children's book called Purple Little Bird and two-book series featuring a character named Wiloughby. We'll likely be checking those out soon.