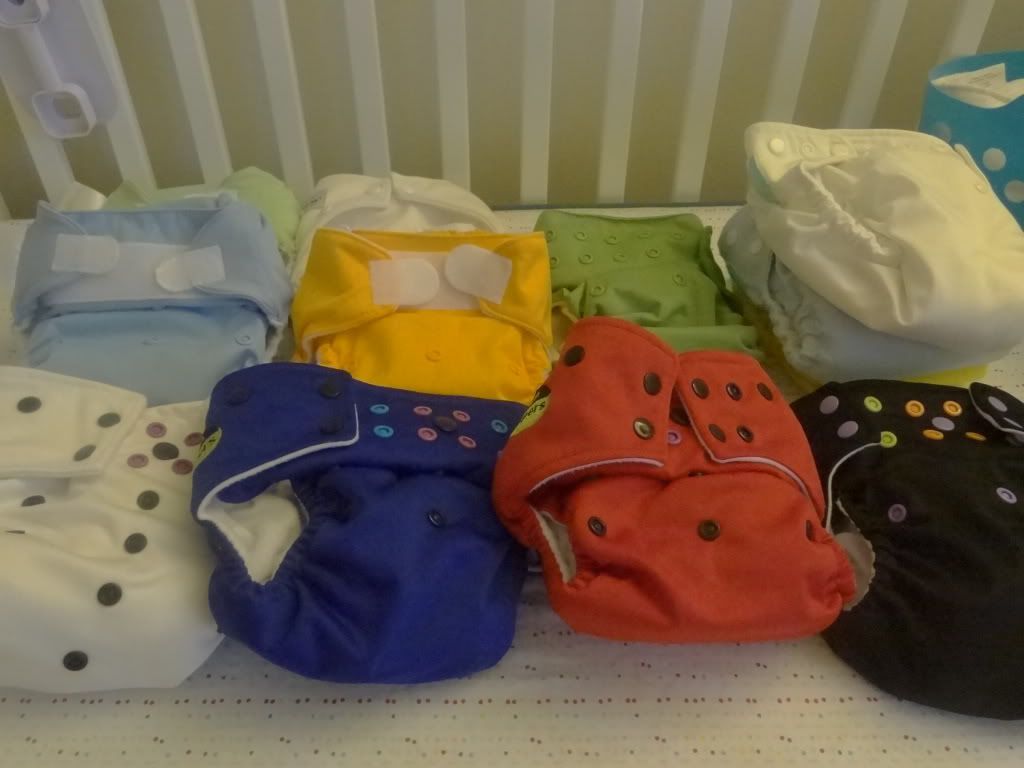 Monday's post
about why we're embarking upon this cloth diapering experiment got a little rambly, so today I'll share my stash, our system, and generally reflect on how things are going so far.
The picture is a closer view of half my stash which now numbers 24. It consists of 23 pocket diapers and 1 all-in-one. A pocket diaper has a removable absorbency insert which allows for faster drying than the all-in-one where the absorbent material is not removable. In both cases, the exterior of the diaper is waterproof, so there's no need for a separate cover or the plastic pants of earlier days. In the picture from the top left you see: 2 BumGenius 4.0, 1 FuzziBunz (medium), 1 Blueberry, 1 BumGenius Elemental, 3 of 6 Charlie Bananas (small), 4 Go Green Champ 3.0.
Not pictured are 3 Charlie Bananas, 1 FuzziBunz (small), 3 Alva Baby, 1 BumWear, 1 Baby Kicks Basic, 1 Imagine OS, 1 Rumparooz, and 1 Tweedlebugs.
I'll probably do some reviews of the diapers in later posts as we definitely have our favorites already. Our favorites includes most of the velcro diapers (BumGenius 4.0s, Blueberry, Imagine), as well as the small Charlie Bananas, medium FuzziBunz, and the Alvas. Some of the other diapers are cool, especially the Go Green Champ 3.0s but I think he has some growing to do first.

This is our changing station. Since the area is so small, those hanging organizers from IKEA work great. On the left are the disposable diapers. He's in size 2, so each pocket comfortably holds about 5-6 diapers. The cloth diapers are stored in the numbered hanging baskets. I put all the velcro diapers at the top for easy access by my husband. The bottom pocket holds the ones I use most and the rest go in the middle. Not pictured is the basket that I use to store the extra inserts. I really don't have a good place for it yet, so it usually travels to wherever I stuff diapers.
While the Blueberry's small, this setup works perfectly. However, I can't see him fitting comfortably on the table once he grows a few more inches. When that happens we'll either have to get a bigger changing table or start changing him on the floor.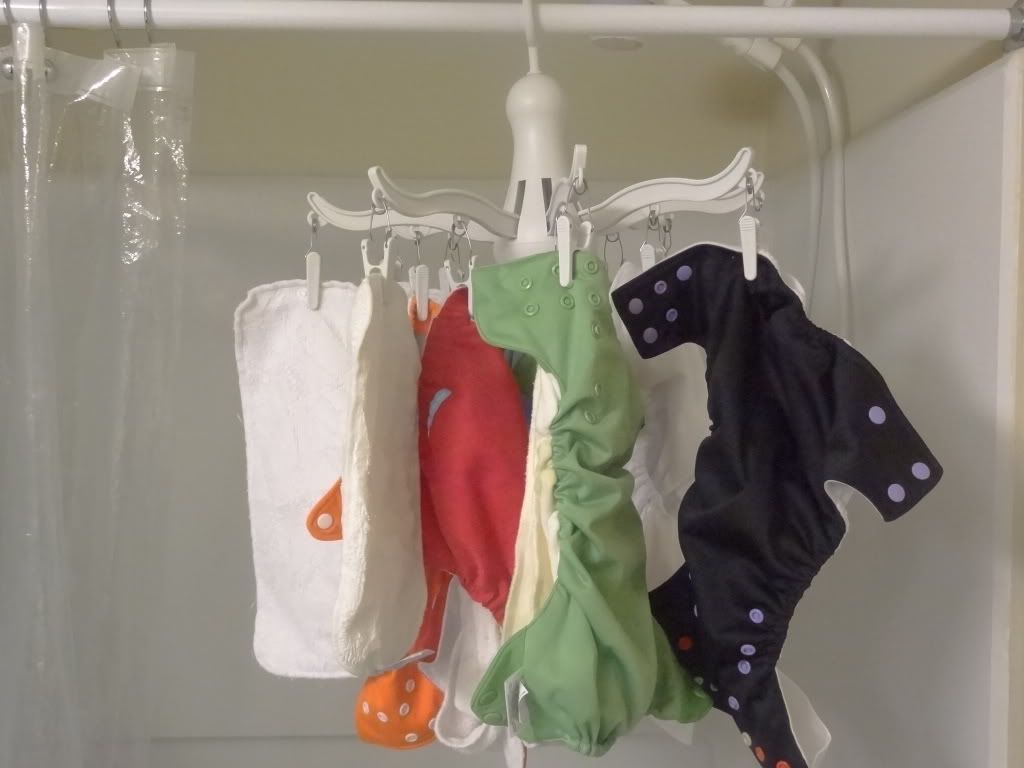 As I mentioned, I air dry my diapers. Also from IKEA, I found these neat octopus-like racks. I have two which will dry 16 diapers and their inserts. Typically one hangs in my laundry room and the other in my bathroom, although working on finding space for both of them in the laundry room where it's warmer. The inserts usually require overnight to dry but the unstuffed diapers dry in a couple of hours. Once the weather improves, I hope to hang outside. Supposedly the sun removes stains as well as bleach so I look forward to that as I already have a good number of stains :(
On a related note, one of the things I love about cloth diapering is how colorful they are. The Blueberry often marvels at the hanging diapers and watches me intently when I prepare the clean diapers for the new day.
In general, things are going well. It seems like he feels the wetness in the cloth diapers relatively quickly. If he's awake, he'll fuss for a change whether it's a wet or poopy diaper, where as in disposables he only complains if it's poop. Fortunately, he doesn't wake up unless the diaper leaks. So far we haven't had a diaper leak because it was overfull, but there have been a number of leaks likely due to user error on my part.
Cloth diapering definitely has a learning curve, but at the moment we're having a good time. More later...