If you were wondering why there were no pictures last week, it was on account of the Blueberry's first trip to Chicago! Home of the Blueberry's paternal grandparents, his father and I met at the U of C some 13 years ago and started dating about 3 years after that. I absolutely love Chicago--for its culture, activity, urbanization, and even the weather. Since my husband's parents live in a northern suburb, we didn't actually visit the city this time (other than driving past it on the highway up there and I'm not really sure how much the Blueberry can see from his vantage point in the car seat). However, as soon as we can--possibly during our Christmas visit, we will be sure to take the Blueberry downtown to see the sights, sounds, and smells of the city.
For the Blueberry this trip meant a whole lot of time in the car as we drove from Virginia to Illinois. On the road for about 19 hours on the way since we did a bit of unplanned sight-seeing with an overnight stop in Pittsburgh, traveling went very smoothly with none of the screaming fits we had on the Virginia Beach trip a month ago. Things that we learned from that first road trip came in handy. First of all, I fed him nothing but bottles filled with pumped breast milk. Though we use slow-flow nipples, it still takes him a much shorter time to down a bottle than it does to nurse, about 15-20 minutes versus 30-40 minutes, so it made our rest stops considerably shorter. Gas wasn't really an issue (thank the maturing digestive system coupled with the glass bottles, possibly), though I gave him gas drops just in case. My husband and I also made sure that we ate while the Blueberry ate so we maximized time spent on the road. As a test-run for our trip at Christmas, I think it worked quite well to stop on the way there, since we left after lunch time and hit some mid-day traffic passing through DC, but drive straight back when we were able to leave at dawn. Driving on Columbus Day (which wasn't a construction holiday, unfortunately) it took about 16 hours (not counting our overnight stop or sight-seeing detour) to Illinois and 14 hours back on Sunday when there was no construction. Not bad at all considering we made at least 4 stops each way to eat. (Driving alone, it takes me about 10-12 hours, though I only stop a couple times for gas.)
I'll have another post or two with more reflections and pictures from our trip but here are some shots of the Blueberry hanging around his grandparents' house.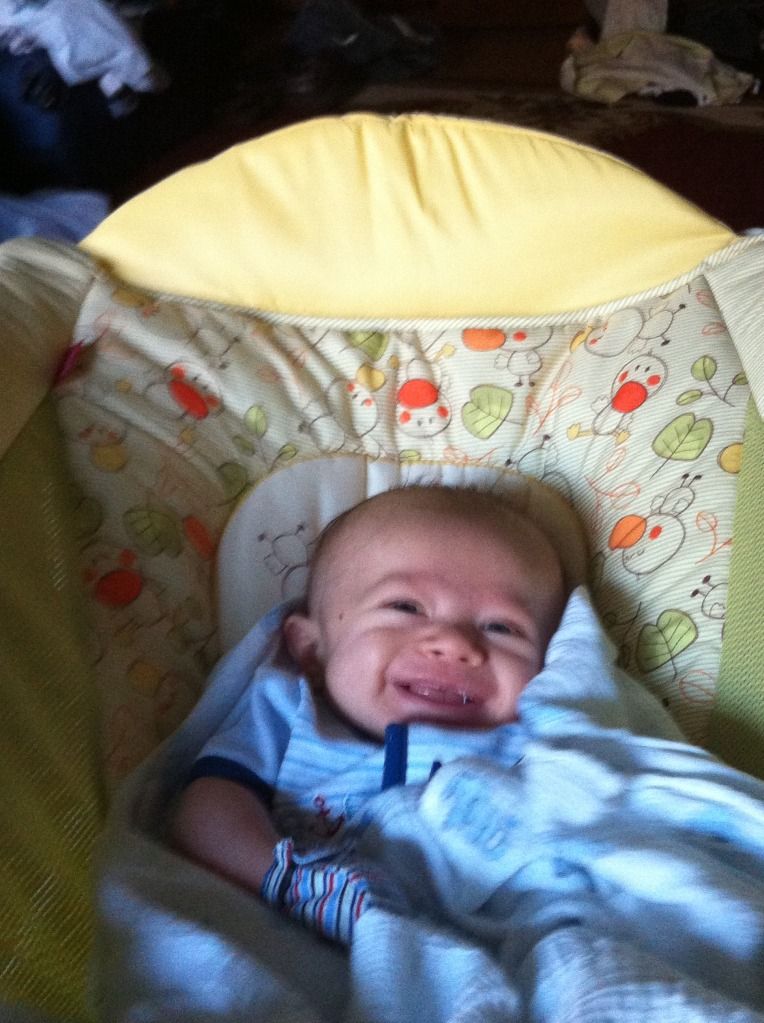 Waking up with a big smile on his face ready to start the day. My husband's room at his parents' house gets a good bit of morning sun which was a nice change for the Blueberry.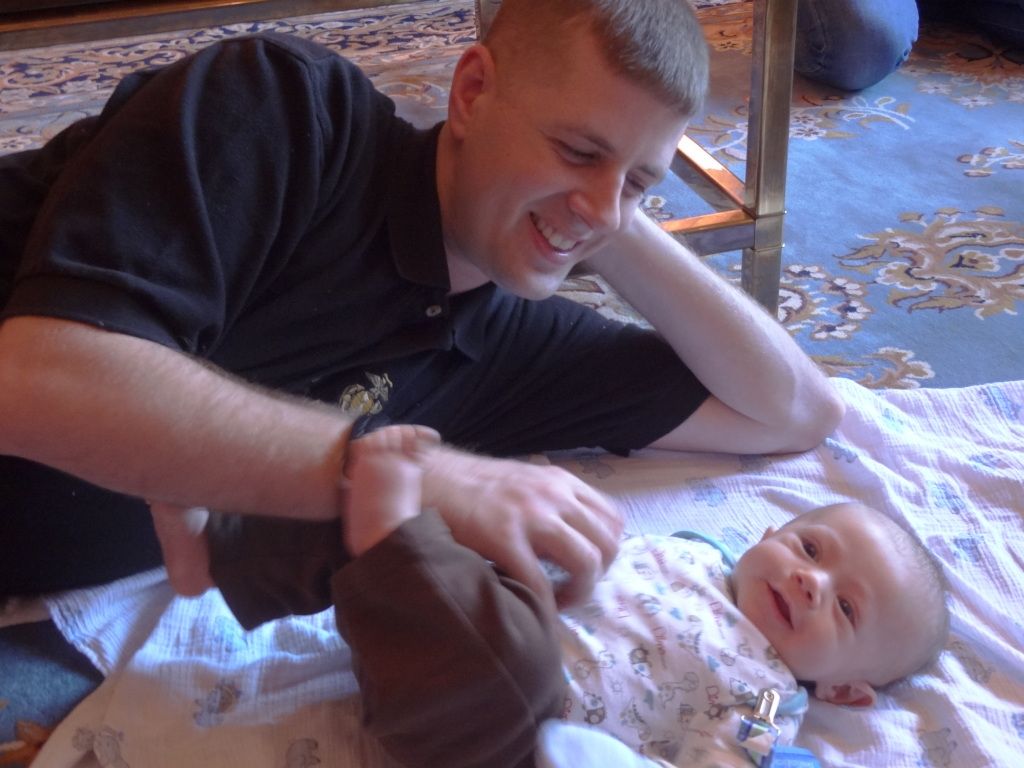 Playing with his Daddy on the floor of the family room.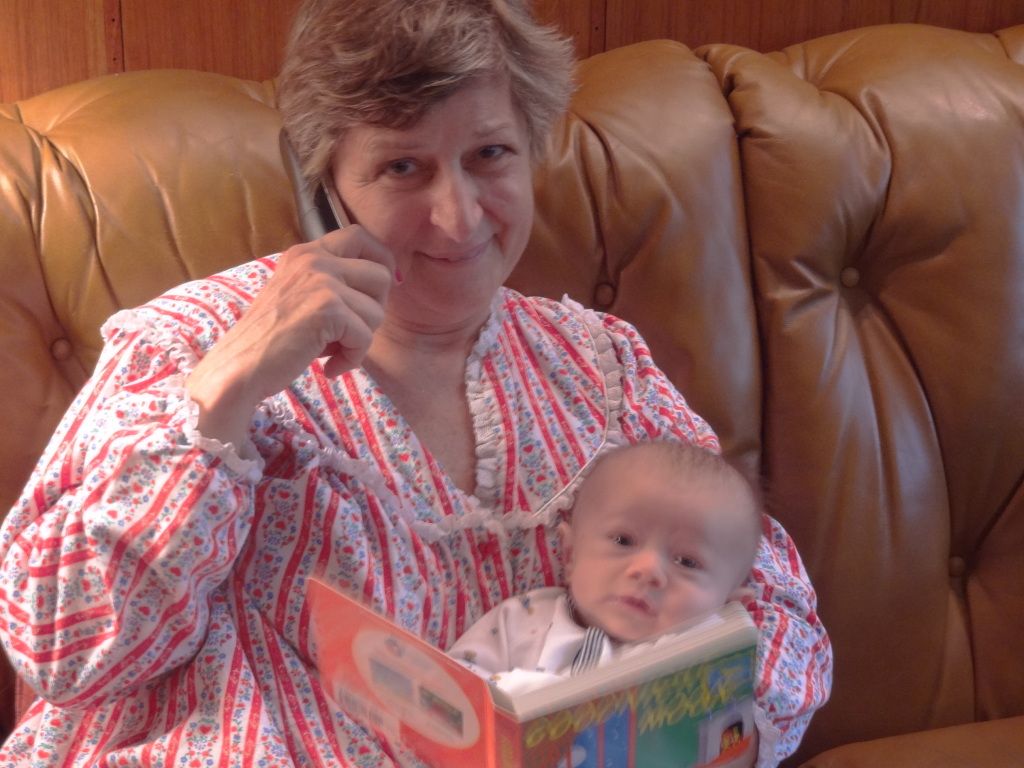 Story time with Grandma as she multi-tasks.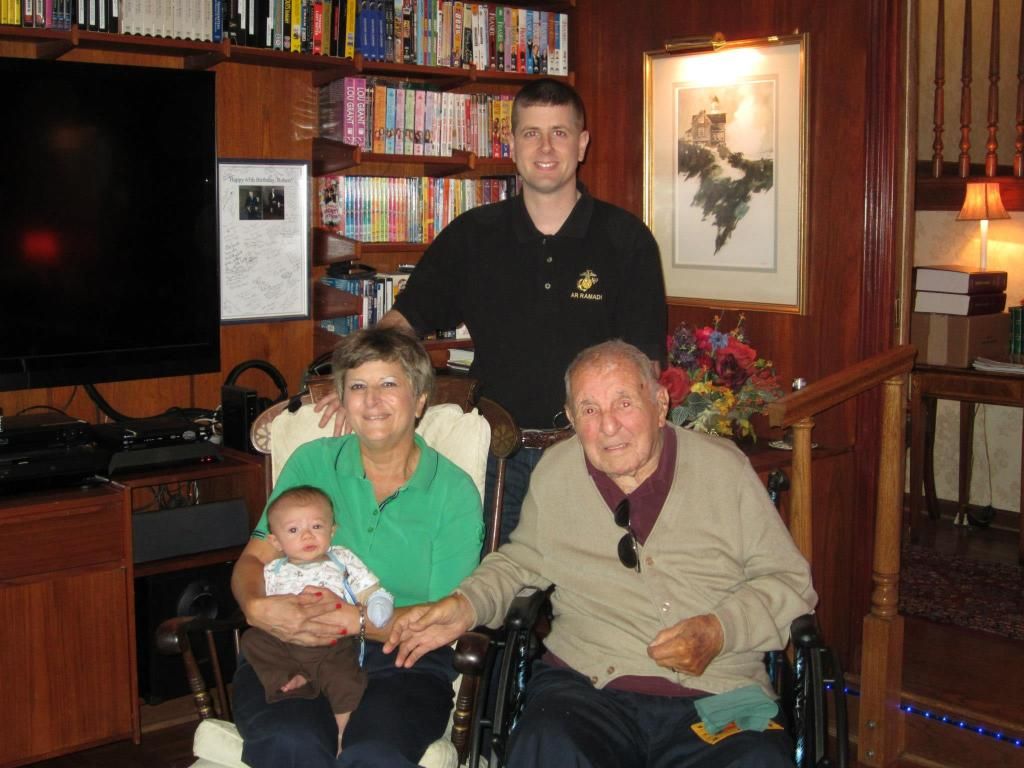 Meeting his 95-year old Great Uncle Silvio.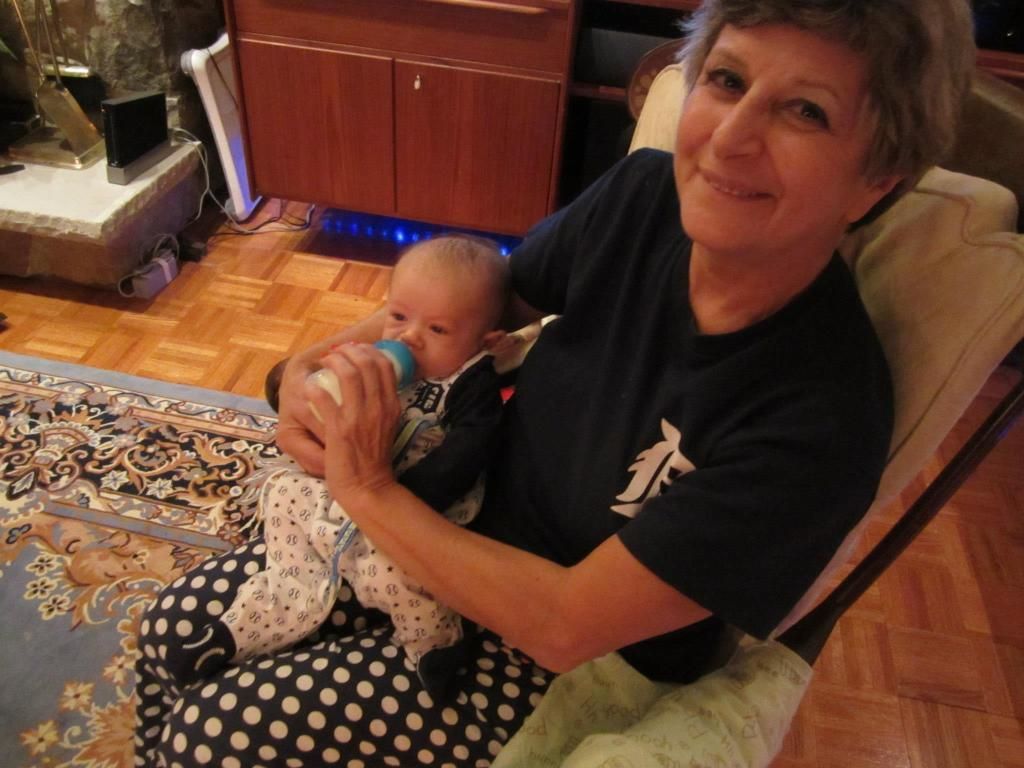 Having a snack and watching the Tigers game with Grandma.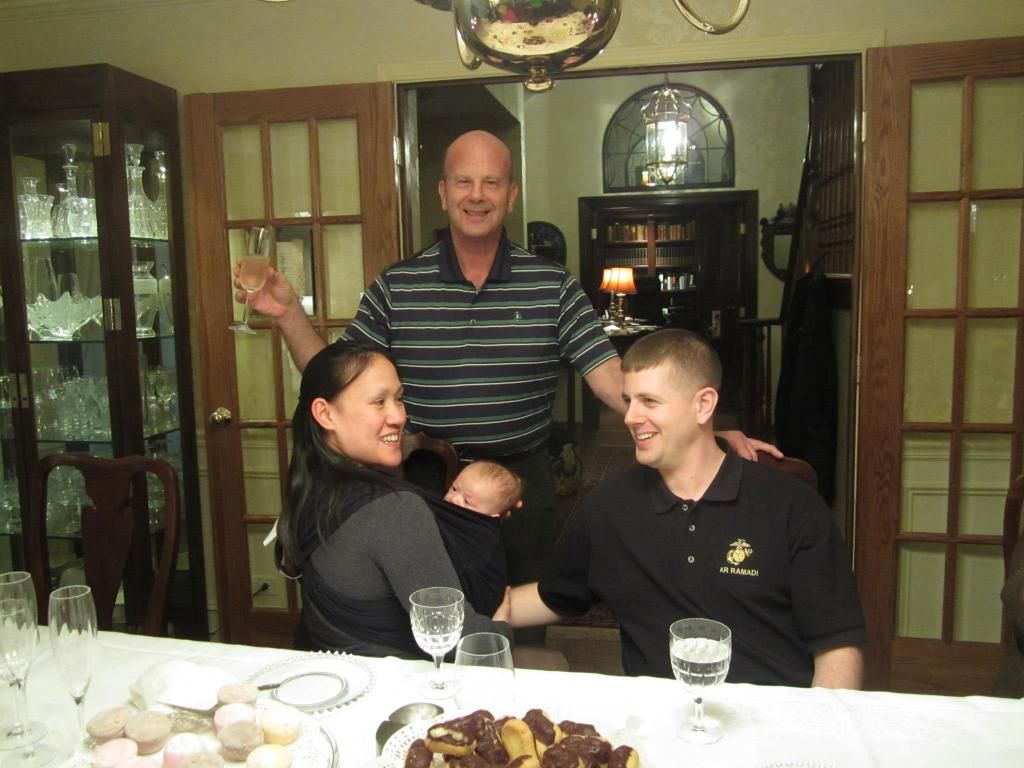 Being toasted (on?) by Grandpa.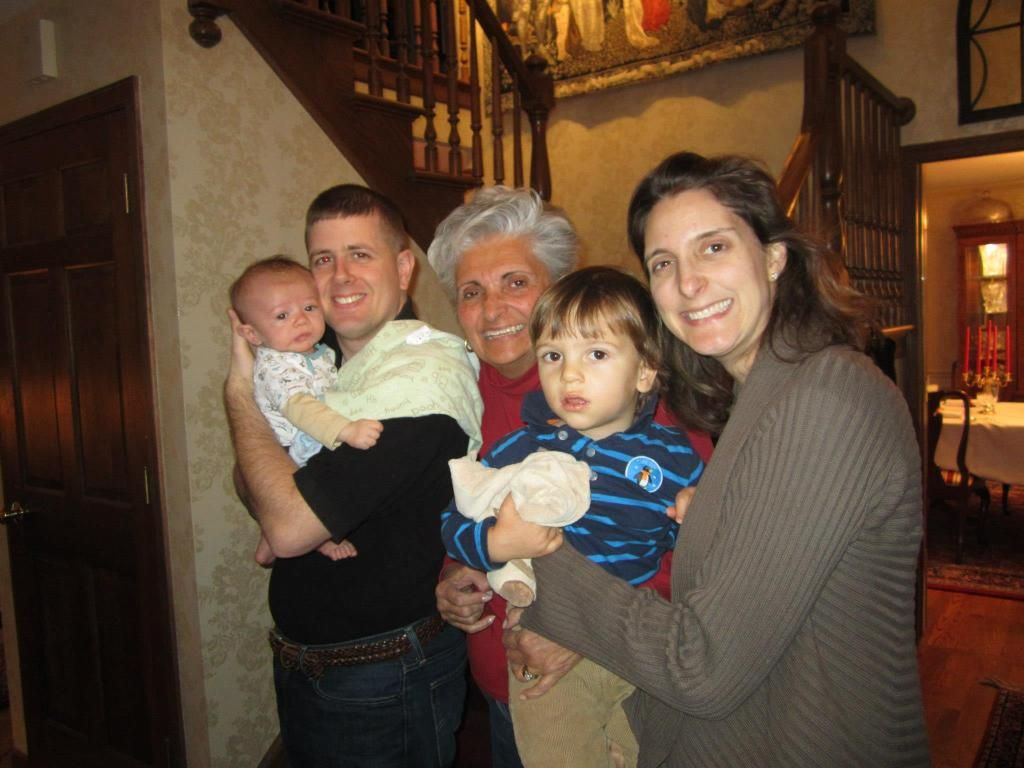 Meeting his de facto cousin and aunts.
Stay tuned for pictures of the Bluberry's first trip to the zoo and more!