On Saturday, I trekked out to Sterling, Virginia near Dulles Airport to check out the
Just Between Friends Consignment Sale
. Billed as the "best" consignment sale in the area, I was eager to go. Given the location's close proximity to Udvar Hazy Air and Space Museum, which is now the proud new home of the Discovery Space Shuttle, and gorgeous weather, let's just say it took awhile to get there. I arrived about a half an hour after opening to find the parking lot packed. (
Note:
the parking lot was not the largest and was also shared by other events going on at the venue--various little kids sports.) Inside, it wasn't terribly crowded, leading me to believe that most of the cars were therefore for the sports stuff. However, the space was a hockey ring, so perhaps everyone was spread out. Checking out did take some time, even with 6-8 cashiers, although that might have been more due to the volume of items purchased by most buyers.
As this was my third consignment sale, I had high hopes for getting "stuff" rather than clothes. The last one,
Classy Kids
was a bit of a disappointment, especially after I had volunteered for four hours to shop early. While I got a few books, bibs, and some clothes, I found nothing big as I'd hoped. Similarly, at the Just Between Friends sale, if there was any "good stuff" such as the bouncer, swing, or high chair I'm looking for, as well as more maternity shorts, they were long gone. However, after the long trip up there, I was determined to make my trip worthwhile. Thus, I scrutinized the clothes and didn't do too badly as you will soon see.
I'm going to
another sale
this coming weekend and am cautiously optimistic. Not optimistic to volunteer, but optimistic enough to look forward to going. The upcoming one is by
Weecycled Wardrobe
, which is the same folks who hosted one back in February. At that sale, I did see bigger stuff that I was looking for but didn't buy because it seemed too early. Next Monday we start the third trimester so I'm anxious to get everything ready. Hopefully, the quality of the sale is similar to what it was in February, although it's a possibility that the earlier the sale in the year, the better the stuff. We shall see. One big plus about Weecycled is that they only accept name brand items--no Wal-Mart, Target or other discount store stuff. Not that there's anything wrong with that stuff, but it provides some buffer for us first time moms who don't know all the brand names yet or have a real feel for what's quality. Anyway, I'll hopefully put in a good report next weekend.
Here's what all I bought on Saturday, all freshly washed and ready to be put away:
Socks!
I realized when I was sorting the baby's clothes that I hadn't bought any socks yet so I made it a point to get a few. They range from newborn to a toddler.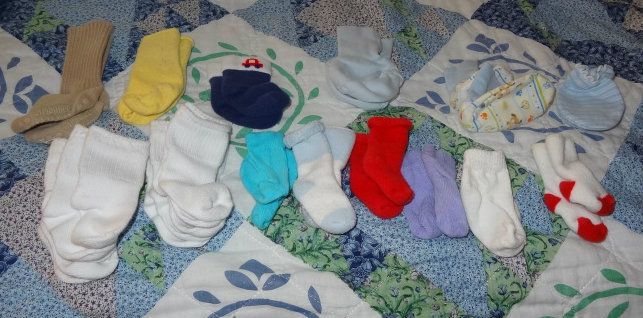 Here a couple booties and one set of mitts.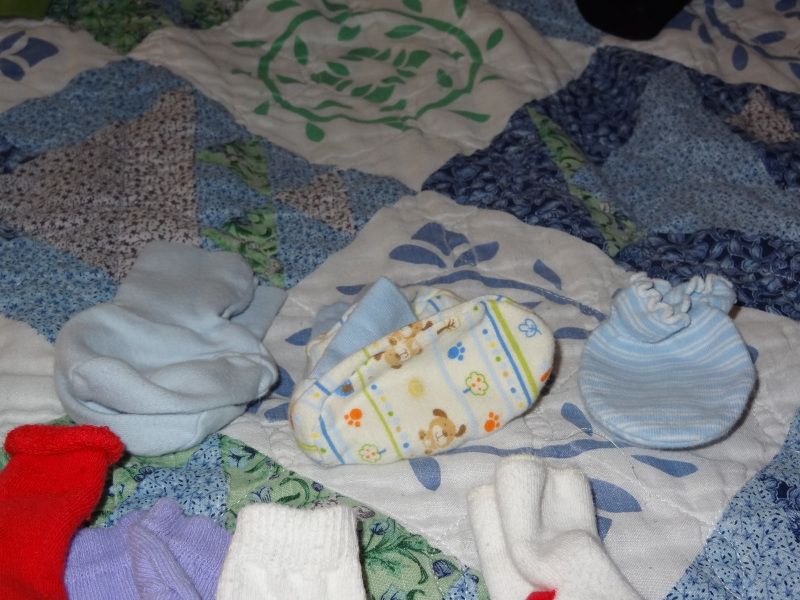 Hats
!
They range from new born to 1 year, I think. Can you guess my favorites?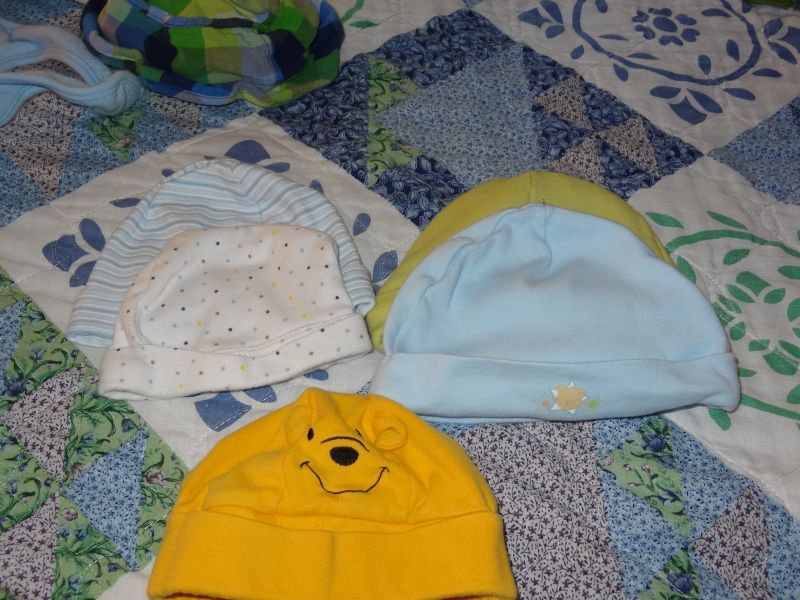 Burp cloths and a bib.
I'm definitely stocked up on bibs now, although I do need more burb cloths.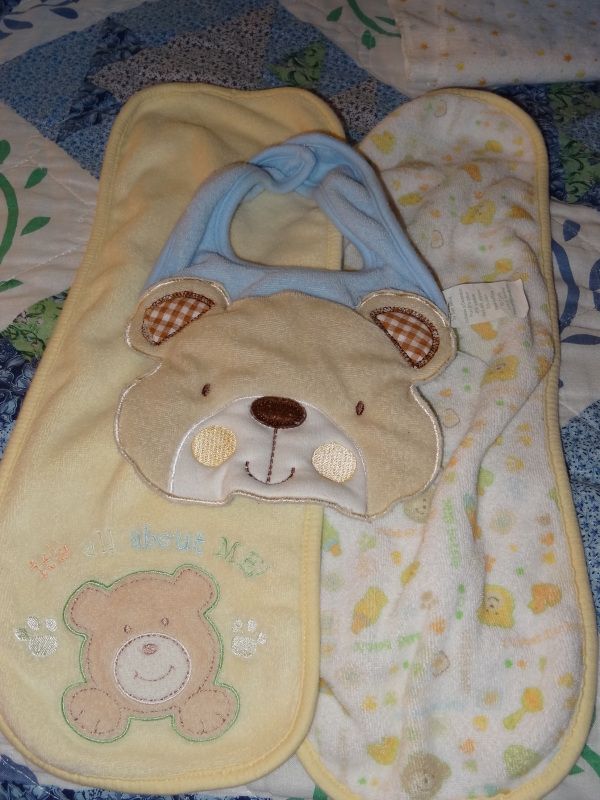 Onesies
.
These are in sizes ranging from 3-9 months.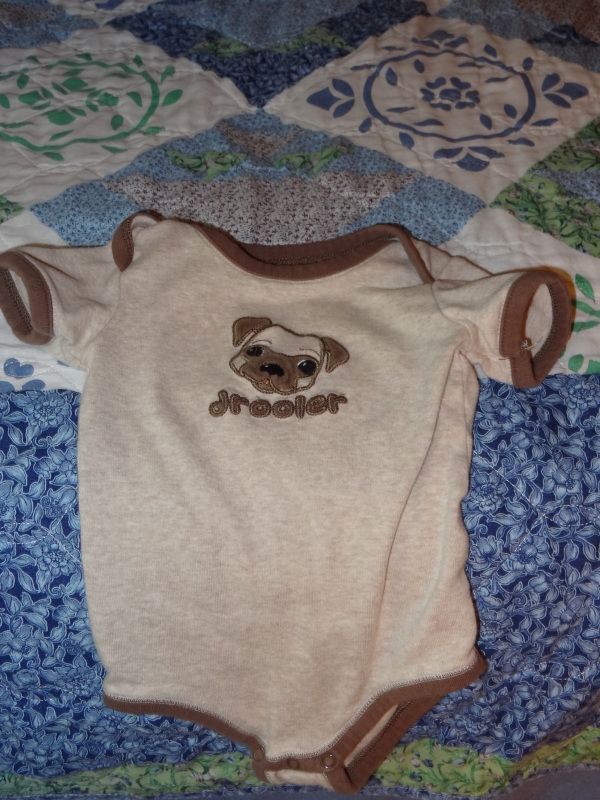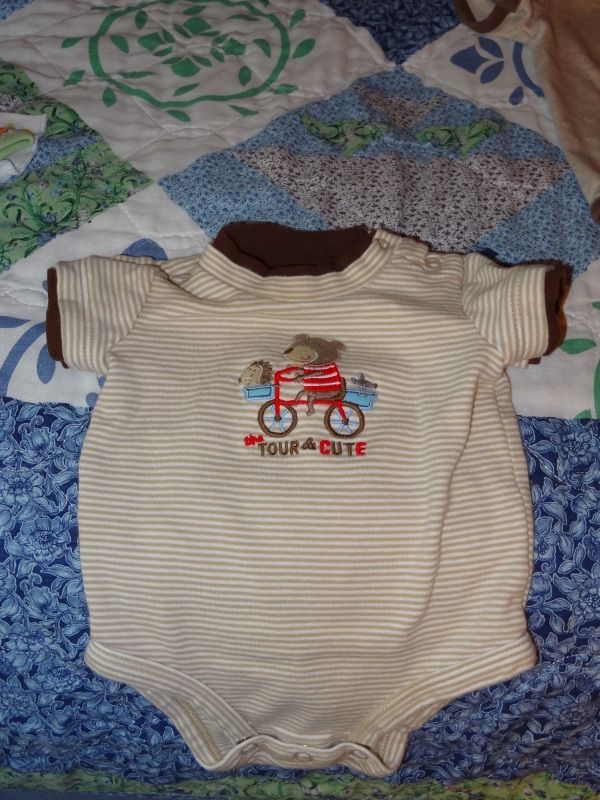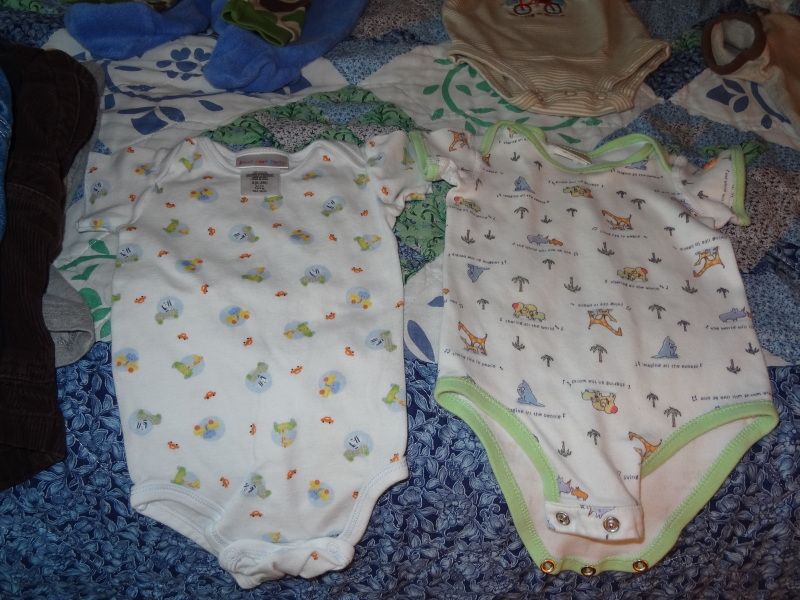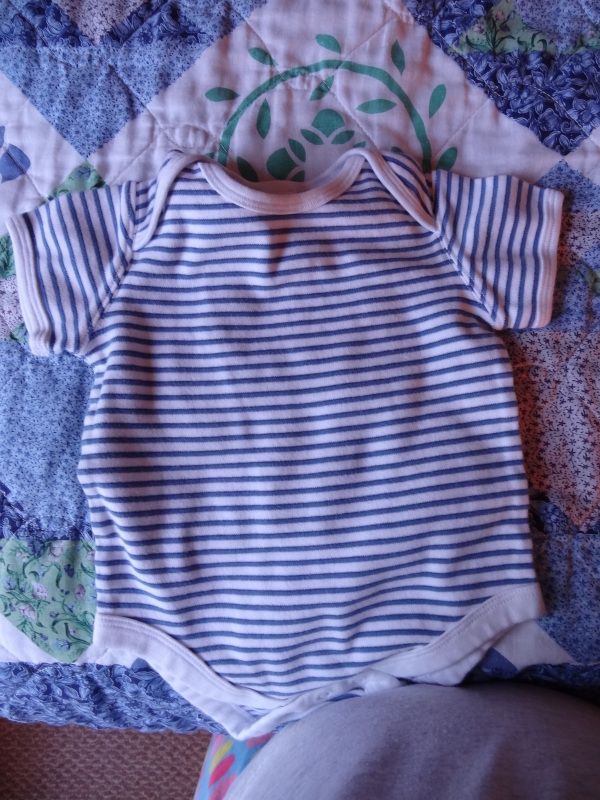 Love this set. It's by Gymboree and totally reminds me of Baltimore.
Pajamas and Sleepers!
The first one is my husband's favorite.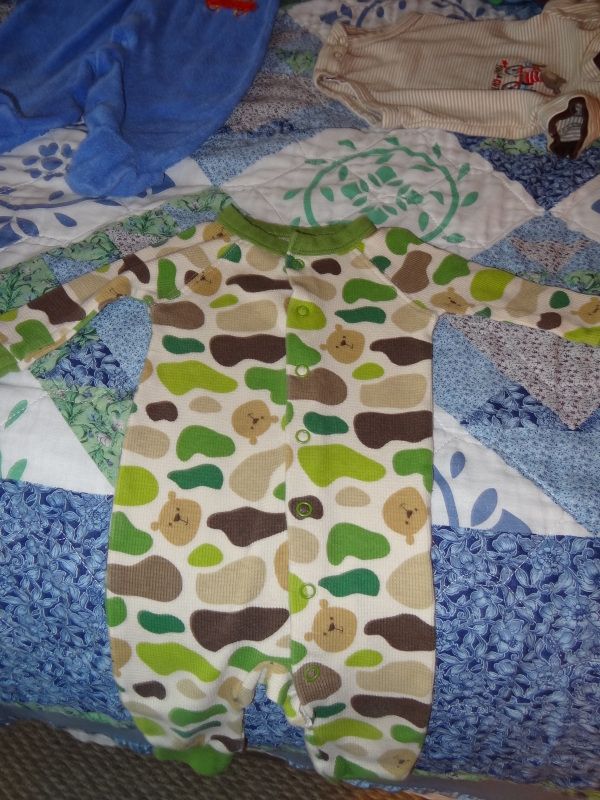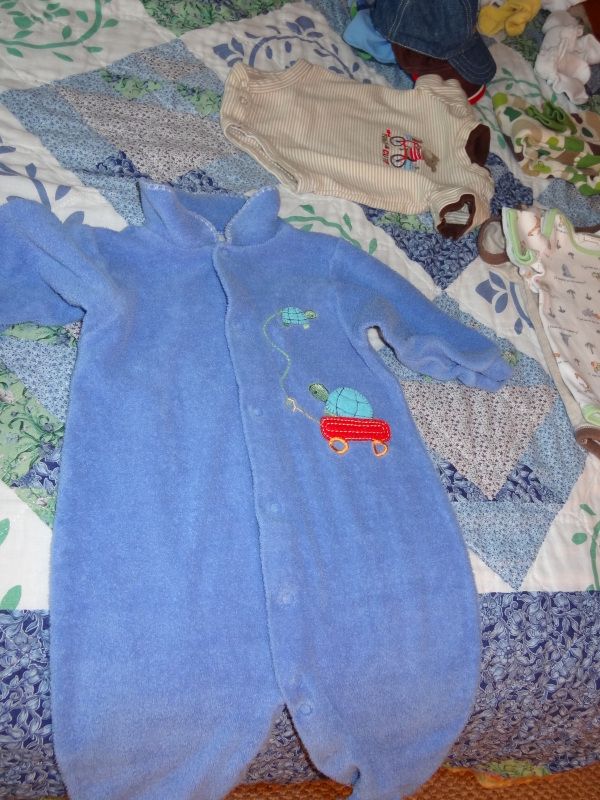 This is a sleep sack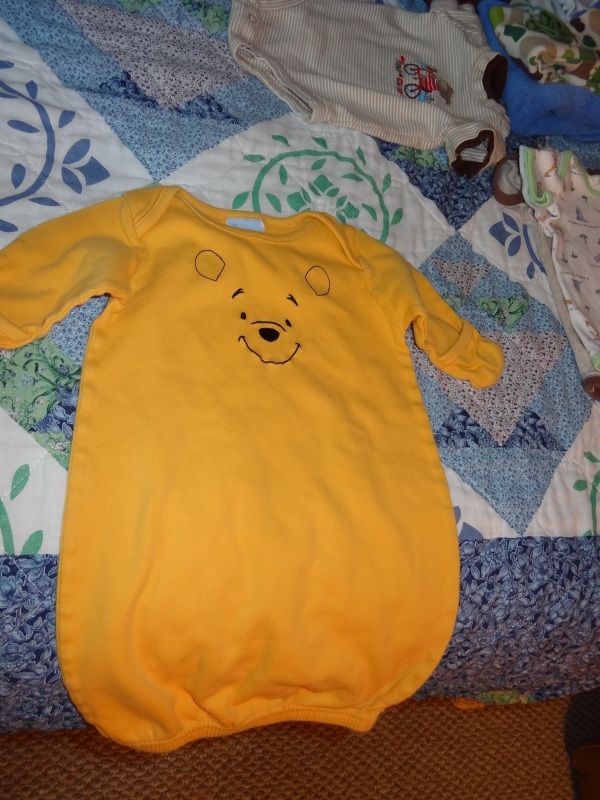 Pants!
I made an effort to buy some clothes in the 6-9 month range which will put us well into winter. Thus, the Blueberry will need some pants.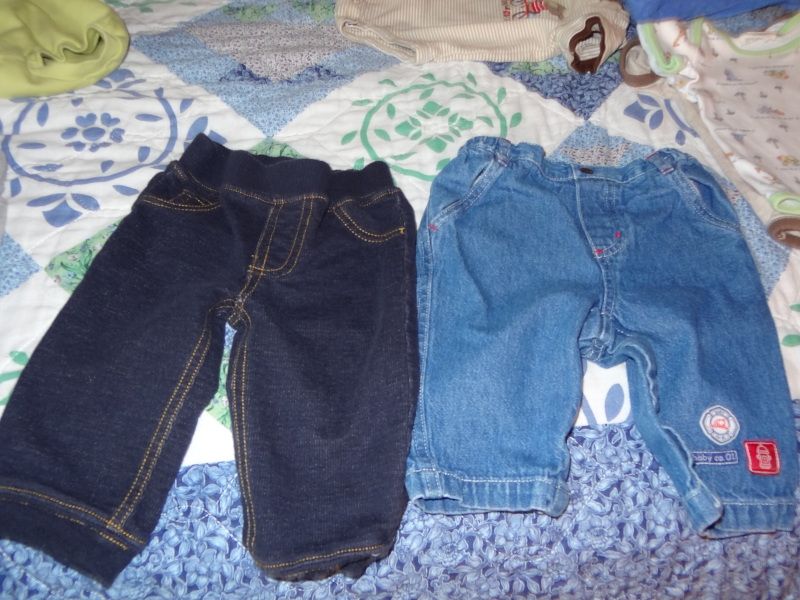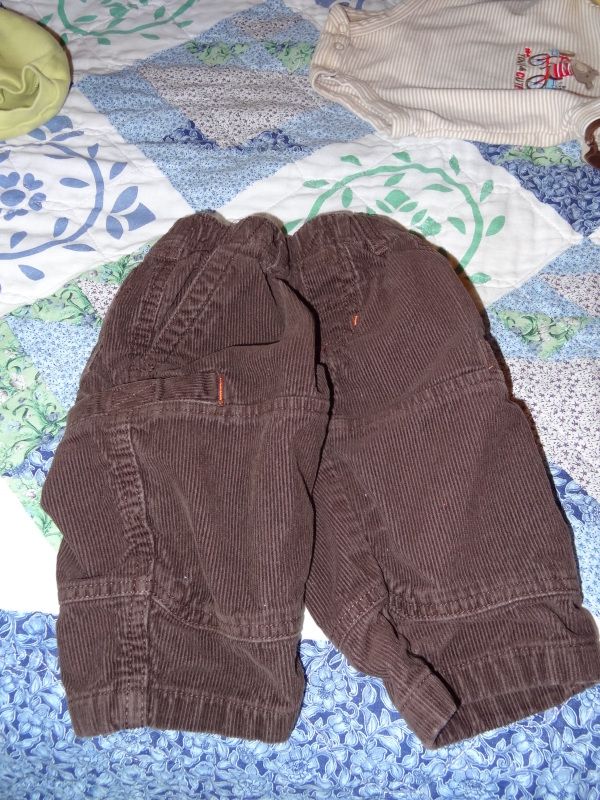 Shirts, Etc.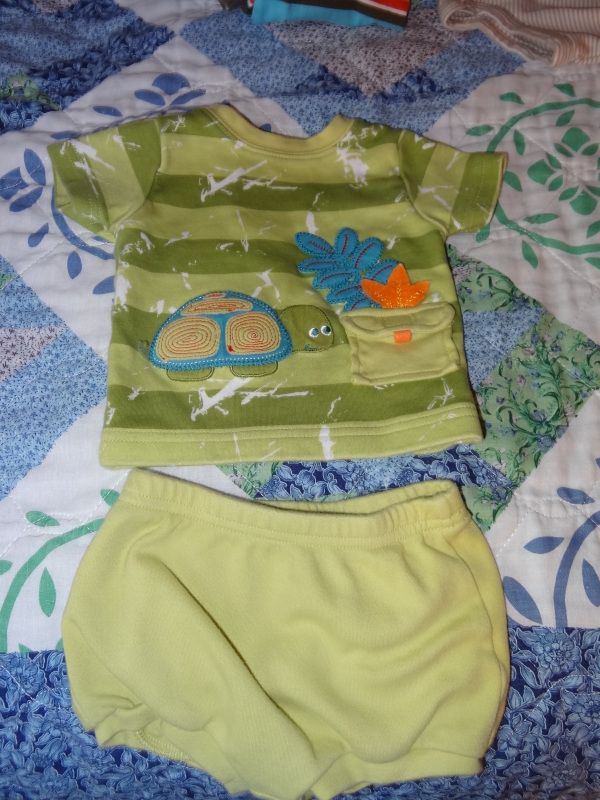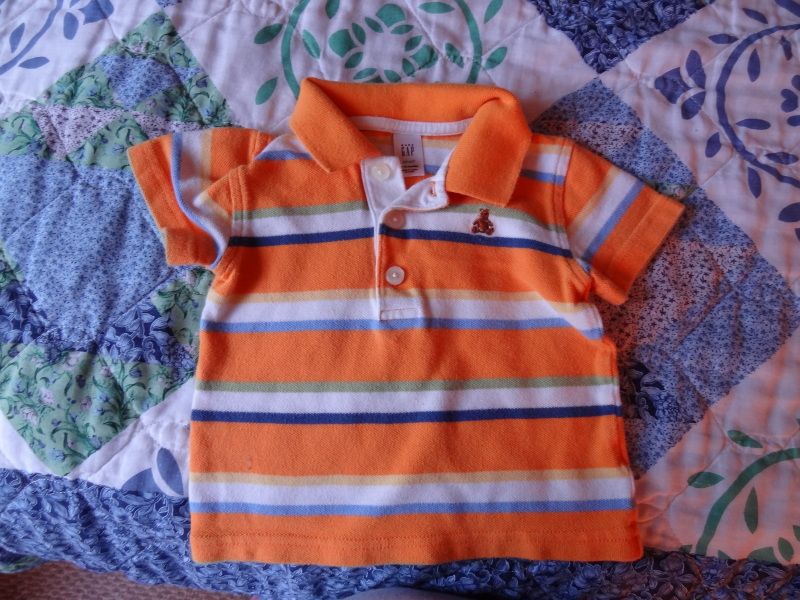 This one was my highest priced item, clocking in at whopping $12 for the shirt and jacket. The brand is Janie and Jack, which appears to be a fancy brand so I think I still got a deal. Also, it reminds me of Hawaii.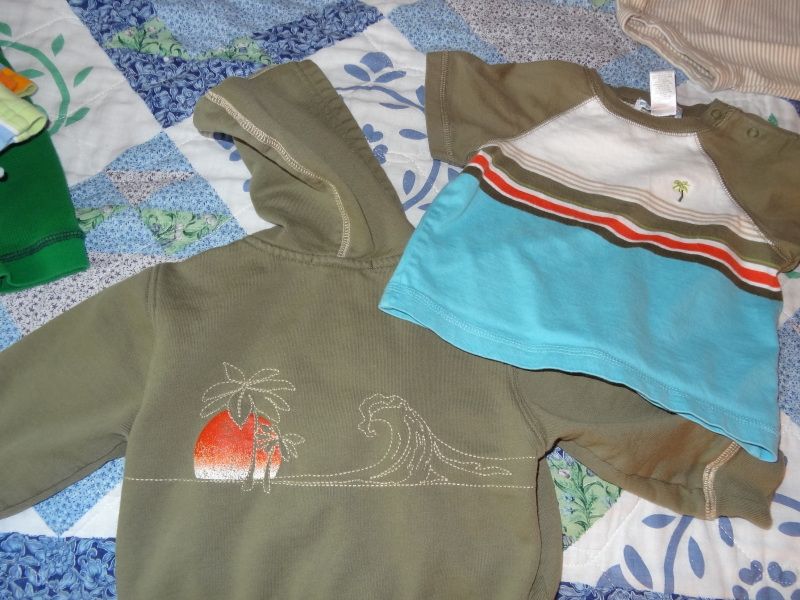 A romper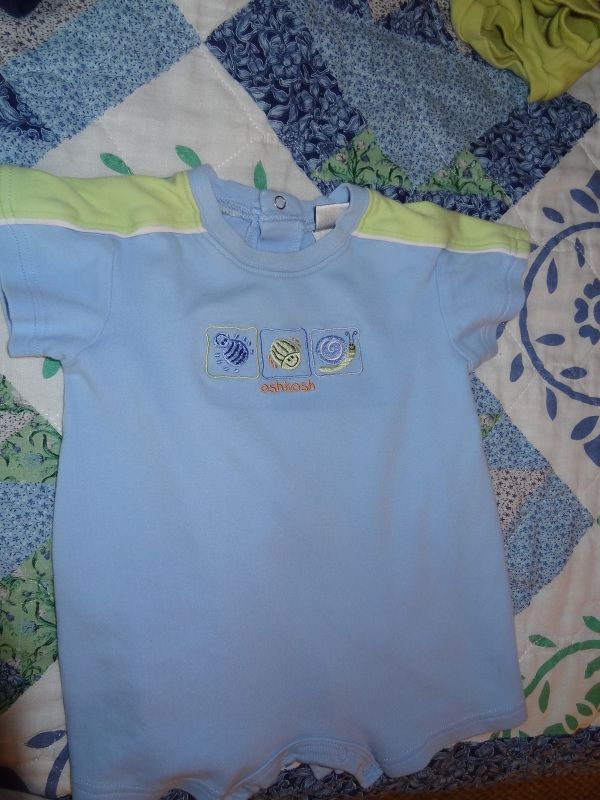 Another look at all his new clothes. . .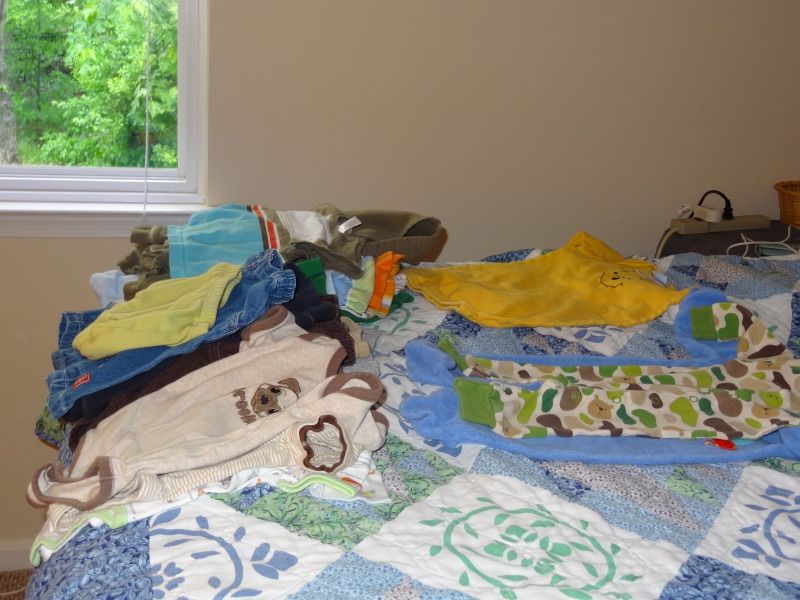 Total cost $89.90